Learnings from climbing a trampoline mountain 8 times
Being strapped into a harness is an oddly comforting feeling.
For Up at The O2's birthday each year they have a charity day, The O2 Challenge, when charities send teams to climb the monument as many times as they can in a 2 hour period. This year I've joined a couple of other businesses from Tonbridge to represent Nordoff Robbins, a charity which uses music for wellbeing and communication of vulnerable people and children.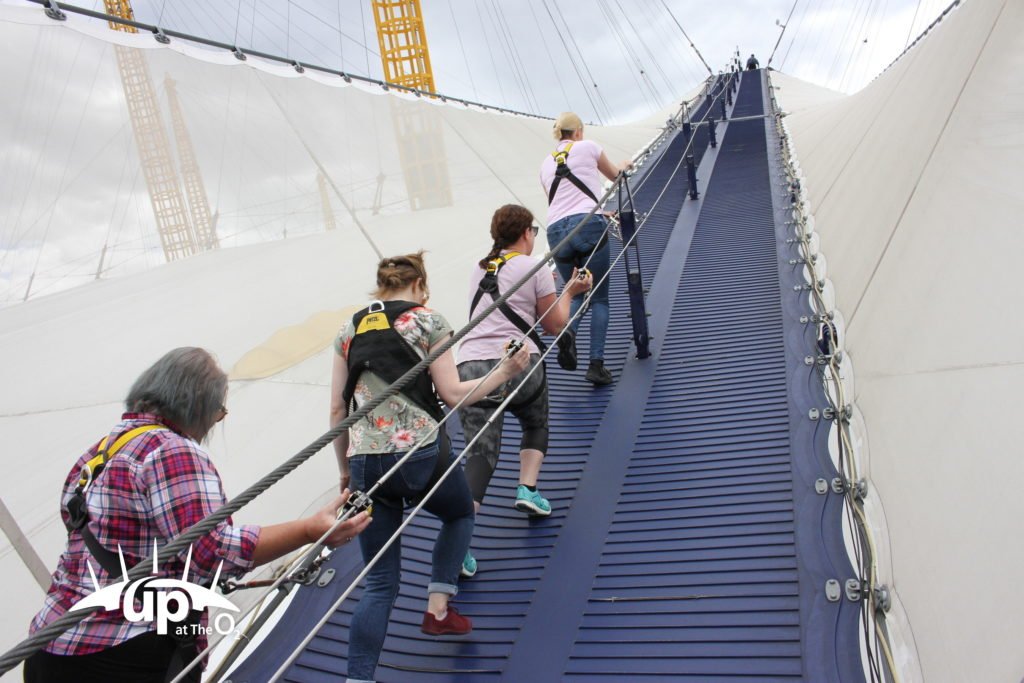 I undertook The O2 Challenge with a group of women, only 2 of whom I had met before, and even then only briefly. There was a range of ages, sizes (I don't normally think of myself as short!), fitness, interests, experience. On the drive up we discover one is afraid of heights.
Ready to begin, I could see the blue path extending steeply upwards, disappearing further over the horizon 25m above my head. The clips and extensive security fostered a sense of importance to the proceedings. The blue pathway for climbing the O2 has been made from a material replicating the white primary structure, which is a rubberised fabric with ridges to stop us sliding all the way down, an option we fantasised about when climbing down for the 6th, 7th, 8th time. Each section as we climb is a slightly lower angle, and we bounce along the latter sections like running on a trampoline – but only ever for 5 metres until the next clip needs attention.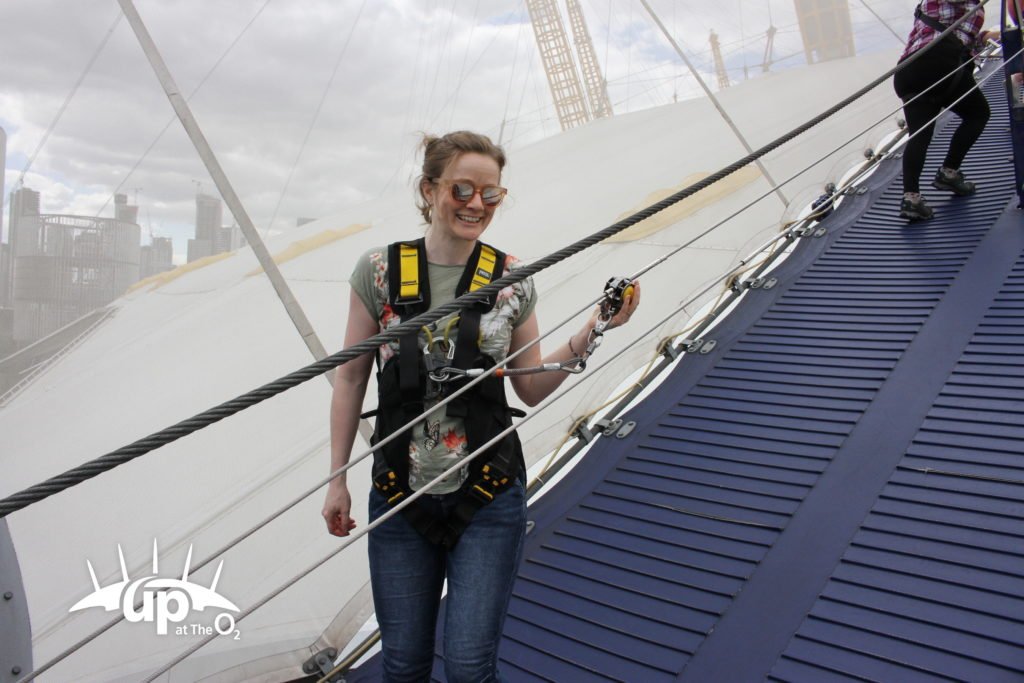 From the top of The O2 we can hear the encouragement of the charity and O2 staff below, music for the entertainment of visitors, banging of ever-present building works across London, squeals of diners at 'London in the Sky' restaurant as they dangle from a crane nearby. All of this is muted though; it is strangely peaceful at the top of the O2, all the hubbub drifting away on the gentle breeze, just our team of slightly panting women appreciating the view and what we're achieving.
Connected to one long cable reaching the length of the path, we climb, walk and bounce in a consecutive line, taking an opportunity to rest for 5 seconds when the person in front struggles with a moving a clip past the supporting pole. By the 4th time we all know which poles cause trouble and which we can breeze through. By the 8th we seem to have forgotten everything, they are all difficult, and the angle of the path is somehow steeper than before.
The O2 Challenge: unexpected benefits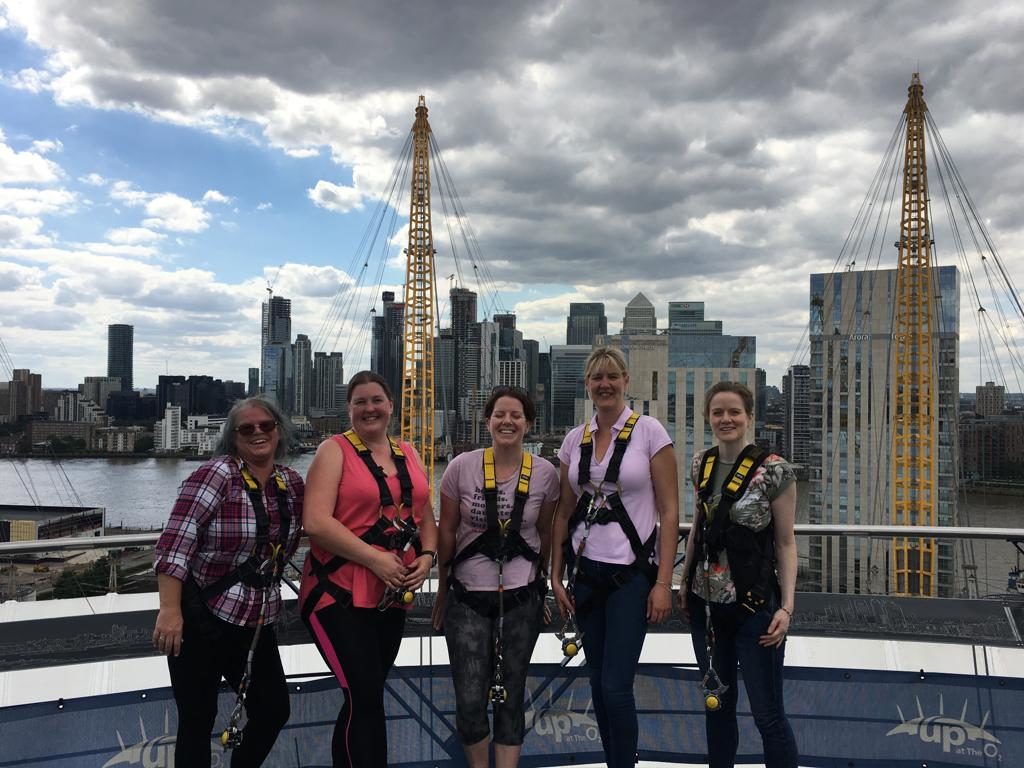 Taking people out of context shows a new side, and physically arduous tasks add another level of intimacy – are they struggling? Keep going when it gets tough? In good spirits despite the challenge? Talkative? Quiet? Helping others? Head down and getting on with it? Without the framework of normal life, all sorts come up in conversation; I learn about a recent trip to Costa Rica, marathon running, pregnant dogs, chalkboard wars.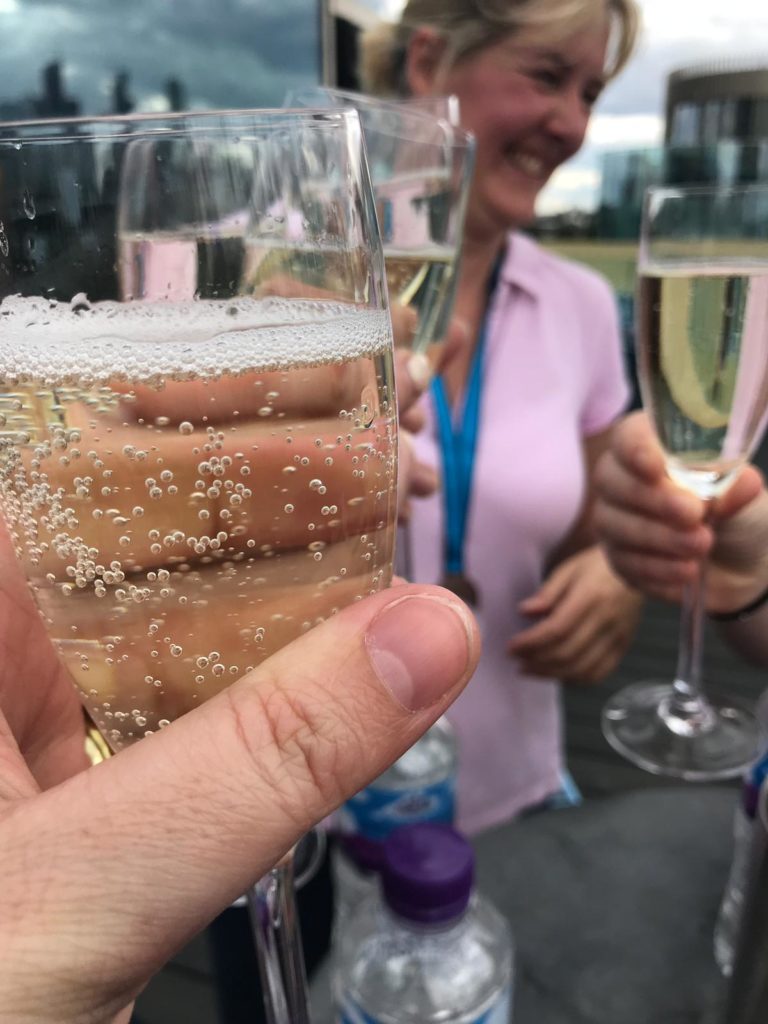 This is a team activity, but not one that this team has ever undergone before so there are no norms and has been no practice. We learn to pace ourselves, take the tough parts more slowly so that we can comfortably reach the top each time. Celebrate every win. Enjoy the views. Eat jelly babies. Relish the breeze. Support each other. Be patient. Ask for help. Listen. Care. Work with your energy levels. Appreciate that you can do things you never dreamt of – together.
I agreed to The O2 Challenge without much consideration for what it entailed, and got so much more from it than I ever anticipated. The personal challenge, the dynamic of the group, the sensory experience along the way. I'm so grateful that I was invited to join in, and realise I need to go looking for more experiences. Life is for living after all.
You never know what you can achieve until you try. Get some good people around you and go for it.
You can donate to Nordoff Robbins through our Just Giving page here.
If you'd like to receive our weekly email with tips and articles for small businesses, please sign up below: