Despite loving reading, I've never been good at writing. Creative writing gives me shivers just thinking about it – I'm a scientist, it's just not my bag. Recognising this weakness in my entrepreneurial arsenal, I took a course. It was pretty intense, but I stuck at it, and I'm so glad I did.
Being a process-minded person, I rationalised all I learnt into a defined series of steps to creating a piece of writing, with detail on what to consider and do, principally for my own use. I'm sharing it with you now as there are plenty of other entrepreneurs who aren't natural writers either who might find a writing process handy.
This process is quite intense and designed for a bigger piece; if you don't want to do all the steps and detail every time for smaller writing pieces, there might still be new ideas to help you. Below is a brief overview – for the full instructions download the Writing Process Checklist and, once you know the prompts which are most useful to you, keep a note of just what you need.
The Writing Process

Idea generation – come up with an idea and central concept for your writing topic. This might come from research, mind maps, brainstorming, or keeping a note of ideas when they come to you. To make the process more efficient (as is my way!), I recommend you do this as an ongoing process – any time an idea comes to you, write it down. Then when you need to write a piece, you take an idea from your list, rather than hoping you are inspired at the time you have available for writing.
Note making – grab a notebook (physical or digital) and write as many notes as you can on the topic you've chosen. Include ideas, words, phrases, observations, research, maybe even interviews.
Planning – now you've got an idea of the sort of content that will be included, make a plan of what should go where. Consider the purpose of the writing, what you are leading towards, the audience, and the wider context.
Drafting – combine your work so far. Follow your plan using your notes to create sentences. Include examples and explanations of each point. Write an introduction and a conclusion.
Editing – congratulations, you have a first draft! Now it needs editing: read it through, ensure it makes sense. Can you enrich or clarify it in any way? Proofread it for spelling, grammar and consistency.
Reflection – reflection makes the difference between general text and making a change in the reader. Leave time between editing and reflection to be able to see it clearly.
Revision – make changes based on the outcomes of the reflection. When you think you're finished, do one last proofread.
By all means repeat steps 5, 6, and 7 as many times as you like until you are happy with the piece.
You can download my Writing Process Checklist which has prompting questions, steps and ideas for you to use when you are next writing. Let me know how you get on with the checklist, I love to keep improving.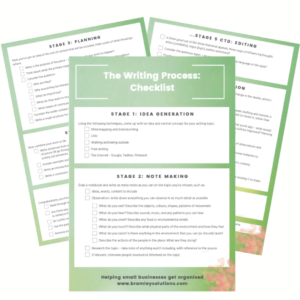 ---
If you'd like to receive our regular mailing with tips and advice like this, sign up below: