Many people start their businesses to spend more time with their family, or just not work so much. Sadly, the reality can be far from this dream.
Working less, more efficiently and more profitably all starts with how you run your business. Getting clear about how every activity you do fits into the bigger picture ensures that you know your business inside and out and can run it successfully.
One way of doing this is a Business Overview – everything that goes on in your business, all in one place. A Business Overview lists all the sections (e.g. admin, marketing, finance) and all the activities that go on within them for your business. There are lots of common activities, but there will also be things specific to your business.
Having everything you do on one page can be freeing – it's no longer a big mess of endless to do lists and ideas in notebooks, it is all there. Everything you do is working towards something on that page.
If you prefer to watch than read, try this instead:
Take some time to write out all the activities that go on within your business. This can be a list if you're like me, or a map/drawing if you prefer. We've created a checklist of sections and activities for you to download for free – it's a great starter to get you going.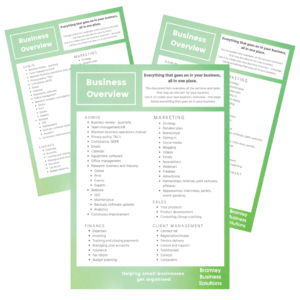 The Next Step – Processes
You can use your Business Overview to create systems and processes for each area of your business. Start with one activity you find easy to start.
Think carefully about your current process for each activity – which steps do you take? In what order? How frequently? Is anyone else involved? Which programs do you use? Add in any detail you find helpful.
This stage of systemising – documenting what you currently do – will help you reduce time spent guessing what you need to do and how you need to do it. As a business owner you have so many plates spinning and jobs on the go – a process document means you don't have to remember everything and can free your mind for more important tasks. You can also use it to outsource or find cover during busy periods.
Work through the Business Overview you've written and create processes for everything you do, put it all together in a Business Operations Manual. Having all this information will help you streamline your activities and prioritise your time.
Process Improvement
When you're looking to improve your processes, look more closely at something you're finding frustrating to manage, maybe something you avoid and procrastinate. This might be tracking your expenses, making videos or maintaining your website. These are the things that are really valuable to systemise and improve.
Analyse the processes for gaps or improvements. How can you optimise? Could you automate some steps? Can you remove any actions?
Try using your new process, and critique how it goes. You may find practice is different to theory and you want to modify it again – that's great. Keep going until you feel the process is efficient and effective.
You can download the Business Overview document here to do this process for yourself and start increasing your profitability today.
Download Business Overview Document
---
If you would like help creating your processes, Bramley Business Solutions are happy to assist. We can also create your personalised Business Overview Document for you to start you on your journey. Email us to book.
One of our clients who started with the Business Overview document said this:
Emma sat down with us, and we started with the Business Overview document she provided. It enabled us to review all aspects of our business and identify what needed to be improved. Through a process of enquiry and research Emma came up with a strong, business-focussed plan with actions to implement across many areas of our business.

There were immediate benefits as some of the suggested process changes were put in place before our meeting was even finished. Although the bulk of what needs doing will now be down to us to finalise, I know that Emma will be on-hand to help with useful advice and suggestions.

I have no hesitation in recommending BBS as your "business improving" partner, we've seen significant improvements to our business processes since engaging with Emma and her team.

Graham Hobbs, Clockhouse Productions
---
If you'd like to receive our regular mailing with tips and advice like this, sign up below: